Multigolf at Haikko
20.1.2022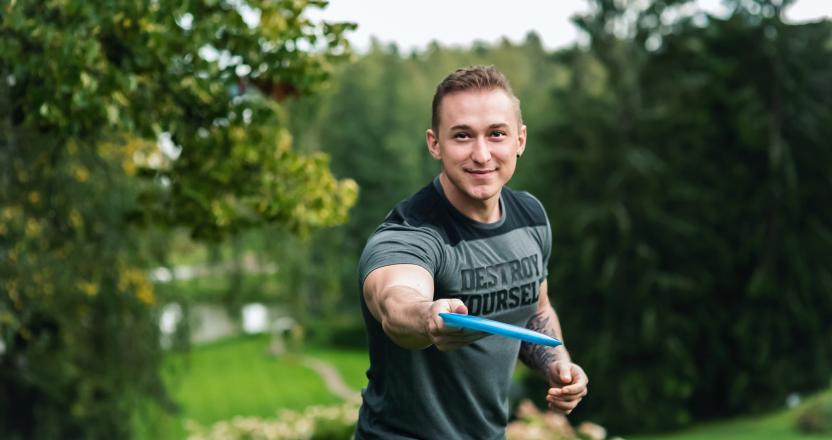 Multigolf is a fun game that suits everyone. Multigolf includes three sports: frisbee golf, soccer golf and park golf. 

Haikko Manor Park has a 9-hole multigolf course for three types of games: frisbee golf, soccer golf and park golf. In park golf the only allowed equipment is a plastic golf club and a tennis ball. For security reasons golf balls are strictly forbidden. Each fairway length is is 50 -100 m.
General Information on Multigolf
Multigolf can be played alone or in a group. The course will be played by using all three game equipments. On the 9-hole course the players will play all nine holes with each game equipment. This means totally 27 played holes. Each hole is played from the start till the end by one game equipment. 
Multigolf Rules
Multigolf course consists of several holes. The goal of the game is completing each hole in the fewest kicks/strokes/throws.
The game starts from a tee area. Each player in turn kicks/strokes or throws his or her game equipment. The game goes on by continuing the kicks/throws/strokes in order to reach the target hole. After all players have reached the target and the scores are marked, the team will continue to the next hole.
The player completing each hole in the fewest strokes/kicks/strokes is the winner!
Multigolf Etiquette
Each player should know multigolf etiquette.  Mutual courtesy within the players and towards others moving around in the park area will ensure a pleasant and safe coexistence. Please find here to main courtesy rules to be followed: 
1. You are responsible for your kicked/thrown/stroked game equipments.
2. Make sure there is nobody on your way when throwing/kicking/stroking. Do not play if there are people on the fairway or nearby.
3. Please note there might be other people moving around in the park. They do not necessarily realise they might be on the course. You may politely ask them to give way but kindly remember they also have a right to be in the area. 
4. Please do not distract other players. Avoid unnecessary noise and moving while others are concentrating.
5. Leave the course in good condition for the next players. Do not litter or leave anything on the course. 
6.  The course has in-built and/or natural obstacles (incl. branches, plants etc). Do not move or remove them.
7. Playing with a golf ball is strictly forbidden.
Welcome to play - game equipment and score cards are available in the reception.