New Premium Rooms
22.3.2023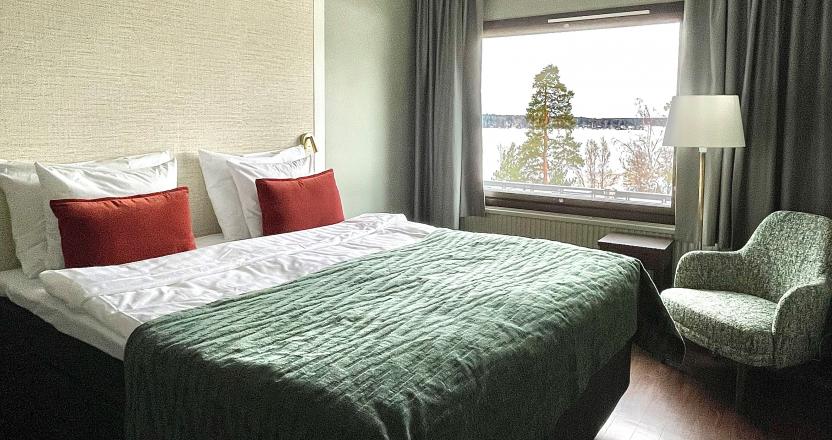 New Premium Rooms are ready
There are now 47 newly renovated Premium Rooms in the Spa Hotel. The room amenities, comfort level and interior design have been upgraded to reflect Haikko's values.
In addition to timeless Manor elegance and historic atmosphere, the new Premium rooms are decorated with harmonic colour tones, such as moss green, water grey and reed yellow together with matt gold that reminds of the grand past of the Manor. 
As an active actor in sustainability, Haikko has recycled many of the old furniture and invented new ways of using them. Electricity consumption will also be reduced due to new technology, such as individual air conditioning and led lamps in the rooms. 
After a design competition and hearing the key customer council, RT-Interiors and Restatop were chosen to plan, design and supply the furniture for Premium rooms. Previous experience in hotel and restaurant renovations (for example Haikko Manor's Cellar Restaurant and Pub) together with similar values with Haikko were convincing. The previous dark panelled rooms were updated to lighter and more modern ones. Some old features were restored to create a wow effect. RT-Interiors took care of the demolition, installation of the fixed furniture as well as the finishing touch of the rooms. They also supervised the furniture and textile installations by Restatop and Decco. This ensured smooth working processes due to a strict schedule and budget.
The new rooms are equipped with the new generation Vingcard Classic card locks, that complement the previous solutions. Haikko's property maintenance cooperation partner, M&J Fixing, took care of installing the acoustic ceiling panels in the bathrooms and some furniture renovations. The bathrooms were treated with nano surface coating that destroys bacteria, viruses and mold but does not allergize or cause danger to nature, animals or people.
Premium Rooms have new Finnish-made beds 
One of the most important furniture in a hotel room is bed. The Premium rooms located on the seaside wing have luxurious, Finnish-made king size beds with ergonomic mattress and soft, non-allergenic bed-linen. The forest side twin rooms have Finnish-made beds by Unikulma, Haikko's long term cooperation partner company. 
All beds have Finnish Annala's unique, moss green chenille bedspreads, solely woven for Haikko. The old bed headboards were coated by durable Pierre Frey's Natte vinyl wallpaper, that reflects a colour shade of birch bark. Eight twin rooms also have a very comfortable Casper convertible chair bed with an open bed width of 75 cm.
New equipment and new 50" TV's
The rooms were upgraded with new minibars, electric water kettles, hairdryers and led-illuminated make up mirrors. The desks were relocated and renovated by installing them with HiMac surface cover. Worth mentioning is also the cognac colour Chesterfield style luggage bench made of artificial leather. The old Edelfelt lithographic prints and Decco curtains give a final touch to the rooms. Some travellers consider TV being the most important amenity in a hotel room and Premium rooms have new   50" Philips Media Suite TV's with a chromecast function.
Welcome to experience our new Premium rooms! 
Take a look at other room types